We're here to help customers with their changing business needs
The current pandemic is uncharted territory for all of us, but as questions arise, we'll do our best to get the answers to help you and your customers.
With that in mind, we created a COVID-19 response page with the latest updates on coverage and payment options. You'll also find helpful resources and information being developed by SCORE (a non-profit organization dedicated to helping small businesses with education and support) and the U.S. Small Business Administration.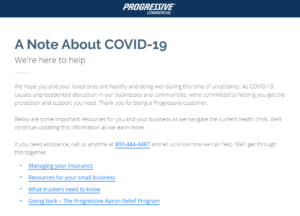 Please feel free to share the link progressivecommercial.com/covid19help, and if you—or any of your Commercial customers—need assistance, call us anytime at 800-444-4487 and let us know how we can help.
Thank you for partnering with Progressive.
View source version here